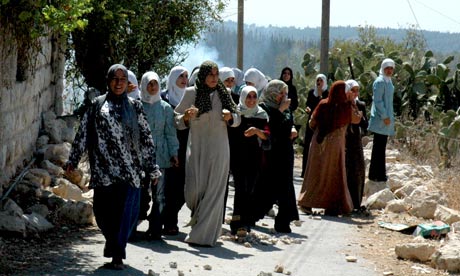 With all the conflict that is happening between Palestine and Israel, it can be hard to keep up. The graphic novel and documentary film both titled Budrus tells the story of a successful non-violent protest that occurred in a small West Bank village.
In 2003, Budrus residents found out that Israel planned to build a separation wall right through their small village. Through peaceful demonstration, active participation from opposing groups and village women, Budrus managed to keep most of their village intact.
Irene Nasser created the graphic novel Budrus to keep the story alive and show the valuable role that women played during the protest. The story is told through the eyes of 15 year old Iltizam, the daughter of Ayed Morar, a peaceful protester. For more information on the graphic novel, take a look at  Just Vision's website (also available in Arabic), which published the graphic novel. It's currently only available in Arabic, but it's free!
For a truly inspiring documentary, take a look at the Budrus trailer below. You can also go visit their website for more information. The film's director, Julia Bacha, has also given a TED talk on non-violent protest. You can view it here.