1975's One Flew Over the Cuckoo's Nest is a landmark in American film as Native-born actor Will Sampson was cast in a significant role as a Native American. His success in film and television marks a turning point for Native and First Nations performers.
Director Michael Apted's Incident at Oglala [documentary] and Thunderheart [feature film] (both 1992) question the conviction of Native American leader Leonard Peltier for the murder of two FBI agents near Oglala, SD in 1975.
Films written, produced and directed by Native Americans begin to appear in 1998 including Naturally Native, Smoke Signals (both 1998) and The Business of Fancydancing (2002).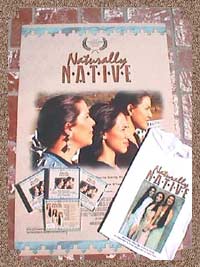 Other films in the collection include:
Windwalker (1980)
Broken Rainbow  (1985) Academy Award for Best Documentary Feature
Dances With Wolves (1990)
Black Robe (1991)
In the White Man's Image (1992)
The Last of the Mohicans (1992)
Ancestral voices [Power of the Word series pt.3]  (1994)
Dance Me Outside (1994)
Sioux City (1994)
Dead Man (1995)
Skins (2002)
DreamKeeper (2003)
Four Sheets To The Wind (2006)
Bury My Heart at Wounded Knee (2007)
Trail of Tears: A Native American Documentary Collection (2001-2008)
Our Spirits Don't Speak English: Indian Boarding School (2008)
We Shall Remain: America Through Native Eyes (2009)
Don't Get Sick After June: American Indian Healthcare (2010)
A Good Day to Die  (2010)
Up Heartbreak Hill  (2011)
Books on Native Americans in film:
American Indians and Popular Culture / Elizabeth DeLaney Hoffman, editor  (2012)
'Injuns!' : Native Americans in the movies / Edward Buscombe (2006)
Visualities : perspectives on contemporary American Indian film and art /edited by Denise K. Cummings (2011)