Batman is truly a man that needs no introduction.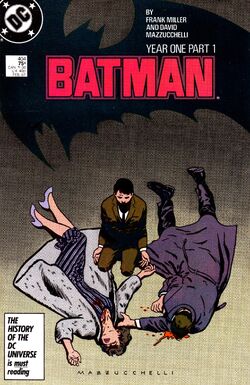 Batman: Year One was written and illustrated by Frank Miller and published in 1987. For those of you unfamiliar with the whole Batman series, Batman first appeared in DC comics spring of 1939. Since then, there have been many TV shows, movies, graphic novels, and comics that followed. The one I'm featuring today is not the first in its line, but stays pretty true to the original storyline of of its original.
We also have Frank Miller's Batman: The Dark Knight Returns. After The Dark Knight Returns, Frank Miller wrote and illustrated The Dark Knight Strikes Again in 2001, which we unfortunately don't have in the library at the moment. Frank Miller's darker Batman is really the premises for the newest Batman films directed by Christopher Nolan staring Christian Bale.
If you're looking for some secondary literature on comics, I would recommend checking out War, Politics and Superheroes: Ethics and Propaganda in Comics and Film. Be sure to check out more information about our upcoming Graphic Novel Symposium happening in the library Thursday, Sept. 18 and Friday, Sept. 19, 10 a.m.-3:30 p.m.