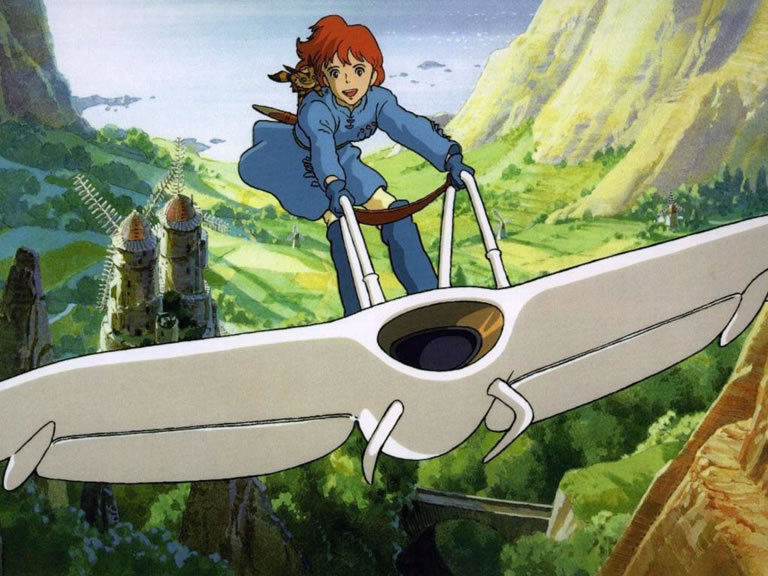 Today I'm going to start featuring all the Studio Ghibli/Miyazaki films we have in our collection. For those of you who have never heard of Studio Ghibli, you're in for a treat! I will introduce the films in chronological order to make it a little easier.
Studio Ghibli was founded by Hayao Miyazaki and Isao Takahata in 1985. Before Miyazaki founded Studio Ghibli, he illustrated manga and even wrote a series (considered to be his life's work) called Nausicaä of the Valley of the Wind. The book was later turned into a film in 1982, which is why it's being featured here! So technically the film I'm featuring isn't a Studio Ghibli film, but it was written and directed by a Studio Ghibli founder.
For those of you who have never seen a Studio Ghibli film, you should probably first know that most of the their films have an element of magical realism meaning there's some element of fantasy within the story that seems completely normal. Nausicaä of the Valley of the Wind takes place in an unknown time (but probably in the future) after a toxic war has killed many people and has pretty much left the world desolate. The only thing thriving are large mutant insects and the Toxic Jungle where humans aren't allowed. I don't want to give too much away, so I'll just leave it at that. I'm leaving a trailer below, so you can decide for yourself.
You should also check out the Studio Ghibli website so you can see all the the Ghibli films out there. They also include summaries and movie trailers to watch. If you wan to learn more about Miyazaki, you should check out The Genius and Wonder of Hayao Miyazaki Timeline.