A precursor to the modern-day graphic novel, the wordless woodcut novel was the medium of choice for a number of artists during the first half of the twentieth century.
Among the most prominent woodcut artists were Flemish Frans Masereel (often called the father of the graphic novel), Italian-born American Giacomo Patri, Canadian Laurence Hyde, and Chicago-born Lynd Ward, whose stories often reflected the social and political issues of their day. It's not difficult to see the influence these early graphic novels had on the likes of Art Spiegelman, Marjane Satrapi, and David B.
The library recently acquired two books that contain a total of seven woodcut novels. The first one is already on the shelves, the second will become available next week:
Graphic Witness: Four Wordless Graphic Novels by Frans Masereel, Lynd Ward, Giacomo Patri and Laurence Hyde / edited by George Walker
The Passion of a Man / Masereel (published 1918)
Wild Pilgrimage / Ward (1932)
White Collar / Patri (1939)
Southern Cross / Hyde (1951)
The Sun, The Idea & Story Without Words: Three Graphic Novels / by Frans Masereel ; introduction by woodcut novel historian David A. Berona
The Sun (1919)
The Idea (1920)
Story Without Words (1920)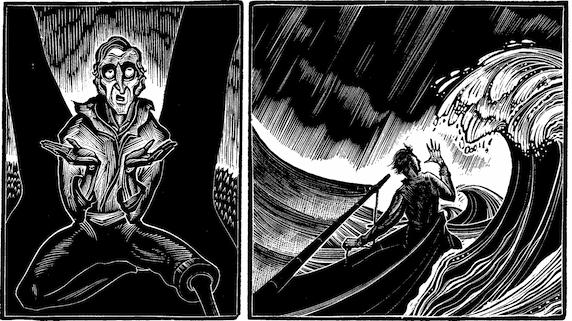 Also, a keyword search in the online catalog for "woodcuts" shows about ten books published between 1940 and 1970 with woodcut illustrations, including one illustrated by Masereel.