Despite the early success of Anna May Wong and Sessue Hayakawa in silent film  [See http://ext.morainevalley.edu/librarynews/?p=1982],  few significant roles were created for Asian performers and often large roles went to heavily made up non-Asian performers. This practice came to be known as 'yellowface.' Examples of this in the collection include:
Richard Barthelmess in Broken Blossoms or Yellow Man and the Girl (1919)
Warner Oland in Old San Francisco (1927) and Shanghai Express (1932)
Luise Rainer & Paul Muni in The Good Earth (1937)
Ricardo Montalban in Sayonara (1957)
Learn about the challenges and triumphs Asian male actors faced in Hollywood viewing the documentary The Slanted Screen (2006) Watch a preview clip here:  http://youtu.be/b6b9nI-5KJk
Films in the collection featuring Asian portrayals or performances include:
Broken Blossoms or, The Yellow Man and the Girl (1919)
The Dragon Painter (1919)
The Tong Man (1919)
The Toll of the Sea (1922)
The Thief of Bagdad  (1924)
Old San Francisco (1927)
Piccadilly (1929)
Shanghai Express (1931)
The Good Earth  (1937) Academy award for Best Actress,  Luise Rainer
In the late 1950's Hollywood takes a greater interest in Asian portrayals and three stars emerge: Miyoshi Umeki, Nancy Kwan and James Shigeta. All three combine their talents in the film version of Rodgers and Hammerstein's musical Flower Drum Song (1961).
Miyoshi Umeki is the first Asian performer to win an Academy Award in 1958.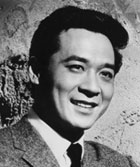 Bad Day at Black Rock  (1954)
The King and I (1956) Academy Award for Best Actor, Yul Brynner
The Bridge on the River Kwai (1957) Nomination for Best Supporting Actor, Sessue Hayakawa
Sayonara (1957)    Academy Award for Best Supporting Actress, Miyoshi Umeki
The Geisha Boy (1958)
South Pacific (1958)
The World of Suzie Wong (1960)
Bridge to the Sun  (1961)
Flower Drum Song (1961)
Enter the Dragon  (1973)